When you're catering for giant groups, food safety can't be ignored – unless you would like dozens of sick guests! Few would want to accept food from a worker who picked up the chicken with their hands and dumped it on your plate. There are basics in food handling that are not any brainers, but some considerations aren't always easy to spot.
Food safety is usually defined as the safe practice of handling, preparing and storing food, but there's a bit more involved. We'll explain all you need to understand to enhance your food safety.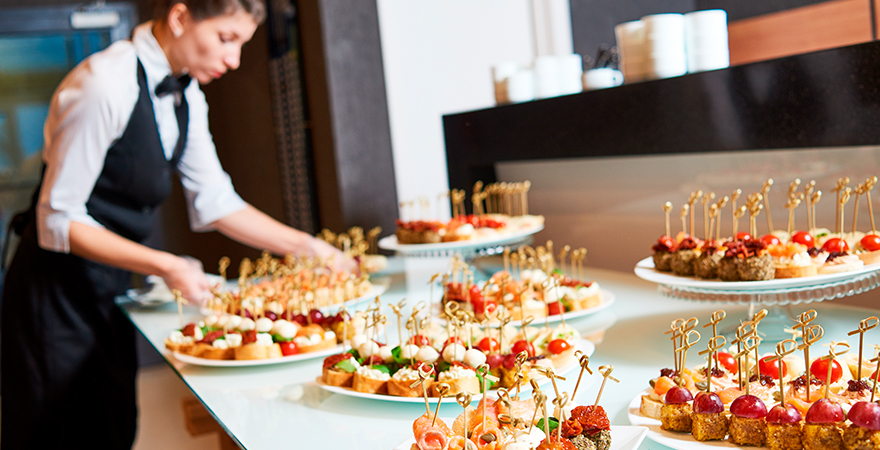 So, here are some points to recollect in Food Safety:
Storage
Store cooked or raw foods at correct temperatures in correct containers. Chill and refrigerate all items promptly. Don't overfill your fridge as air must circulate to keep the right internal temperature. Use an external thermometer also as an indoor one, because the external thermometer can tell all of your staff to form quick checks to make sure that all fridges are safe (without opening them and thus warming them up).
As a caterer, it's tempting to chop potatoes before time, place them in water within the fridge, but it's not recommended. An alternate is preparing them a maximum of 4 hours before time in salt water on the kitchen counter. Confirm they're covered to stop any debris or contaminants from entering the water. Discard and alter the water frequently until use.
Some fruits got to ripen out of the fridge or it affects taste. Confirm these fruits are kept in a very cool room. Never keep uncooked potatoes within the fridge.
Hygiene
Most caterers know how to keep a hygienic kitchen and serving station, but with the rush of an occasion, hygiene can stick in favour of fast service. However, it's important to scrub hands and surfaces often, prevent pests, and confirm all dish cloths and tea towels are washed regularly.
Disinfect and clean all surfaces before and after use as is best practice. When unsure, always clean! Clean areas prevent bacteria spread, and when you're catering events it's crucial. Confirm all cutlery, glassware, serving ware, pots, pans, and everything which will touch the guest's mouths and hands – and therefore the caterers – is clean. You don't want to find out you've got the cleanest kitchen service, but there's leftover bacteria on the side plate.
Management
The biggest concern in food handling is separation of foods to stop cross contamination. Cross contamination happens when harmful germs are spread between foods, surfaces, and equipment. Confirm you keep raw meats and poultry separate from fresh produce. Use different chopping boards.
Disinfect and wipe down surfaces after handling any raw foods, and wash all equipment in hot, soapy water before using again. Most significantly, wash your hands regularly. If you're using gloves to prep food, you may not keep safe practices in mind – because you may not feel the contaminants on your hands – so it's important to vary your gloves routinely, especially after handling raw foods.
Research
Just as mentioned with regard to cross contamination dangers, prepare vegetables and meats on separate boards. In catering you'll often need to prepare food before time, but if you're chilling and storing that food, confirm you recognize the right temperatures at which to store the food, and use correct storage methods. Never prepare foods so much before time that they spoil. Spoiled food should be discarded as to not make people sick, even though it looks and smells fine.
Always use a cutting board to cut food otherwise the cuts in your food prep surface can harbour germs. Use separate boards for meat, vegetables, and prepared to use foods, and wash boards with hot soapy water between uses.