Elegant, refined, and classic! Almost every period has seen the evolution of watches. Nearly everyone has a watch for aesthetic, practical, or sentimental reasons. However, not everyone is a pro at styling them. But with the following hints, you can be sure that your watch-wearing knowledge will gently wow everyone regardless of the wrist candy you choose.
Left or right?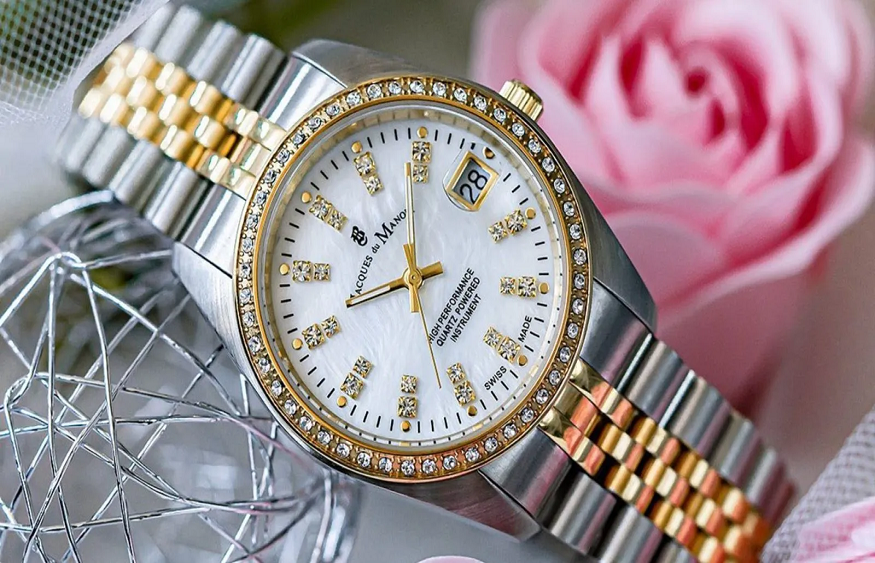 Which wrist should you wear your watch on? That is the oldest watch conundrum in history. Tradition says that you should wear your watch on your non-dominant wrist. There is no rationality to this age-old norm. Its goal is to shield your watch from more harmful exposure by keeping it on the hand utilized for fewer duties. Your timepiece should last longer in perfect condition if you do it that way.
It is advisable to take all reasonable precautions to protect the timepiece because many people who own luxury timepieces often acquire this item as both an investment and a fashion statement. Wearing your watch on the wrist that is most comfortable for you is not wholly undesirable, though.
Avoid overaccessorizing
This watch-wearing rule is straightforward. Make sure your watch complements your attire while matching it with it. You should carefully consider any other jewelry you wear with your watch. People usually want their watch to stand out on their wrists, especially if it is expensive. Make sure your rings match if you wish to wear them; never mix gold and silver. It is common to use bracelets to complement watches for women. If your bracelet and watch don't go well together, you should be cautious about wearing both on the same wrist.
Choose a timepiece that reflects your individuality.
A watch is more than just a fashion piece. It is also a continuation of one's identity, a picture we create depending on what we buy. It serves as a barometer for rank, social class, and personality. Your watch of choice will not be an exception to this rule. So, one of the best watch-wearing tips is to pick a watch that suits your style and attitude.
In other words, if you enjoy luxury, the Rolex might be your watch. Patek Philippe watch aficionados for the elegant businessman or woman, vintage Casio watches enthusiasts for those hipster rebels, and futuristic watches like the Hublot for people with a self-assured leader personality type are other examples of popular pairings between the watch and its owner. Choose wisely since you'll always look your best in a watch that complements you inside and out.
Don't forget to match.
As a general guideline, you should coordinate your watch straps with your shoes and belt. The last thing you want while wearing a watch just for fashion reasons is for it to go against your attire. Therefore, your watch strap should also be black if you wear black shoes and a black belt. Matching your accessories will give you a far more elegant appearance and frequently makes them stand out more than your clothing.
A leather watch strap effectively strengthens other leather accessories, such as bracelets, bags, or belts. The same rule still holds true if you are wearing a steel watch. This complements, for instance, a metal. This complements jewelry made of metal, such as a ring or bracelet.
Wear light with light and dark with dark.
This is a straightforward yet crucial rule that will guide your day-to-day watch selection. Wear light with light and dark with dark is the only guideline you must learn. The rule uses the terms "dark" and "light" to describe the color of the watch dial.
A light watch face, like white or cream, is usually appropriate for daily activities. The preferred watch dial color at night is dark, so emphasizing black, brown, or grey is ideal. Wearing a watch will become easy and uncomplicated by adhering to this rule, and you'll be sure to wear the right watch for the right occasions at the right time of day.
Change up your watch collection.
This rule applies to watches and clothing; you have different outfits for different occasions or activities. The same watch will not be acceptable for a night out on the town, a day at the office, or a workout at the gym. Therefore, even if you're not a watch enthusiast, having at least a selection of 2-3 timepieces you may wear for various occasions may be a good idea. Watch swapping also gives your most priceless timepiece a break, which will probably extend its lifespan and keep it in top shape.
Pair your metals appropriately.
It's important to avoid ruining the overall look with mismatched metals and colors once you've selected the right watch for whichever scenario you find yourself in. For instance, if your watch is silver, consider matching your accessories to the color of your belt buckles, shoe buckles, rings, collar bars or pins, and cufflinks. A great watch will undoubtedly draw attention, but whether you know how to wear a timepiece effectively will ultimately depend on how well-coordinated your complete appearance is.
Reduce the amount of bling (diamonds)
Extra embellishments like diamonds or gems might not be required if you wear a luxury watch. The tip is to tone down the bling to achieve the desired impact, which in a gentleman's case, is to gently amaze while avoiding fashion statements that scream attention. Too much bling can overwhelm a look and have the opposite effect. As a result, wearing accessories like diamond-encrusted timepieces has no place in a man's wardrobe because it just comes out as flashy and, more importantly, detracts from the rest of your clothing by focusing all emphasis on one item.
Avoid donning an oversized watch.
Last but not least, while some famous fashion fads, like the bulky watch, become icons, others are things we learn never to do again.It's safe to say that the era of enormous watches is over, and we aren't sad about it. It's time to say goodbye to this fashion faux pas.