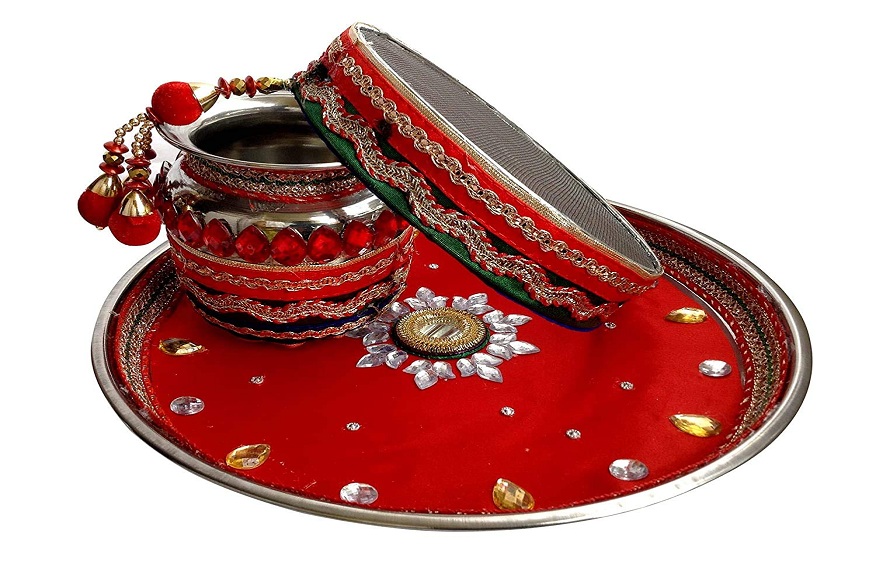 Once upon a time, there lived a beautiful royalty named Veeravati. When she was old enough to marry, Veeravati married a king. On the first Carva Chaut occasion after their marriage, she went to her parents' house. She fasts strictly after sunrise.
In ancient times the statue of Gaur Mata or the goddess Parvati was built with the help of soil and cow dung. But currently, only idols of the goddess are kept there. Then all the married women lit the earthen lamp in their respective Karva Chauth Thalis while listening to Karva's story. Karva Chauth Pooja Thali has Sindoor, rice, and incense sticks. The Karva Chauth Festival appeared as a day to celebrate fall and enjoy the company of loved ones. However, many mythological legends were later added to give it a religious touch. This festival is celebrated and honored by Hindus and Sikhs in northwestern India. This auspicious holiday is designed to strengthen the bond of sacred love between husband and wife.
If you are also looking for great gifts from Karwa Chauth for your husband, you must go through this list.
Chocolates
A day of happiness is incomplete without something sweet. And who doesn't love chocolate? If you give your husband a box of his favorite chocolates or a bouquet of different chocolates, his days are sure to get more peaceful. You can also get creative chocolates, like a two-tiered chocolate bouquet or even a teddy bear with a bouquet/box of chocolates.
Special Cake
Who can resist a delicious cake? Give your husband a soft and delicious cake. With a pretty heart shape and chic decoration, this cake is sure to brighten up your husband's day. You may not have time to bake a cake, but you can always order one. Add a greeting card to this cake to let him know he deserves to be made special and loved. These cards work like the frosting on the cake!
Perfume
Add a touch of good fragrance to your husband's daily grooming ritual by giving him this Karwa Chauth perfume. Whether citrus, musk, or woody, he will surely be delighted with a nice perfume as a gift.
Office Equipment
Send your husband a collection of cute stationery for Karwa Chauth. If he is a person who spends a lot of time at the desk in the office, he will definitely appreciate the little presence of his beloved woman around him.
Perfect Wine Glasses For Each Other
Karwa Chauth is here to celebrate the wonderful relationship you share with your partner and the same call to celebrate. So why not bring your husband a personal wine glass that says "My heart is beating for you" and you can write your husband's name on it. It comes in pairs and you can add your two names if you customize it.
Digital Portrait
It is true to say that memories must be preserved. This is usually a photo to capture the moment. You can take this print a step further and give your husband a digital portrait of Karwa Chauth. You can choose a photo from your wedding album or another memory that means a lot to both of you.
So, don't wait anymore! Pamper your husband with Karwa Chauth gifts Now!