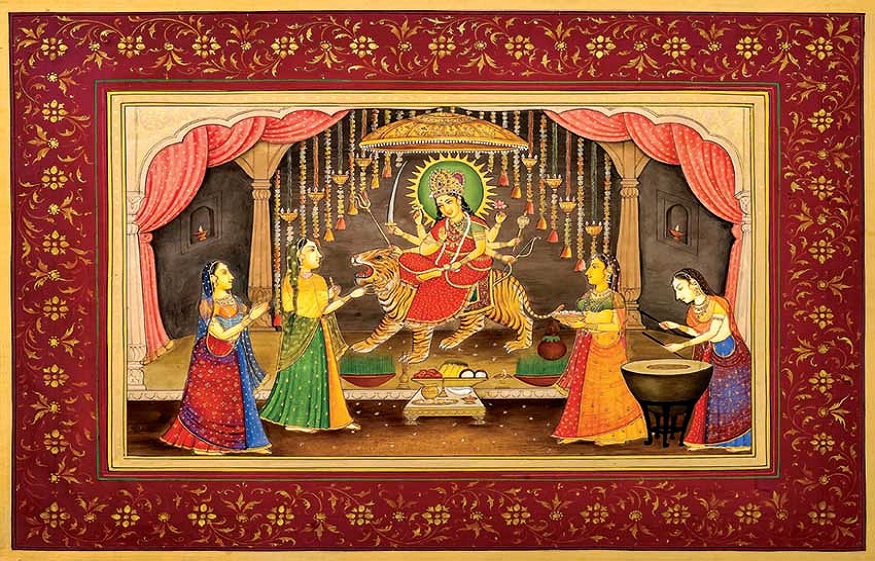 The festival season in India has already started. And Diwali is the next most exciting festival that is approaching. There is a unique feel to this festival. From sweets to new clothing and celebration, everything is so much fun on the auspicious day of Diwali. How can we forget about the gifting ceremony? We get and give so many gifts from and to our near and dear ones. Sometimes presenting sweets and eatables to relatives and friends tends to be boring. Therefore, get something beautiful as a gift for all your friends, colleagues, staff, and relatives.
Today, we will help you explore 5 superb devotional paintings for Diwali gifting. These paintings do not just look exquisite but also practical for home décor. The worship room as well as entryways of any home or office will appreciate these paintings a lot.
1. Pattachitra Paintings
Pattachitra paintings are ancient artworks that show stories from Hindu mythology. Usually, tales of Lord Ganesha and Radha Krishna are depicted through these paintings. These devotional paintings will take no time to bring serenity to the recipient's home. They are so rich in design and colors that everyone becomes their fan instantly. Greet your loved ones this Diwali with a devotional gift- Pattachitra painting. The uniqueness of this artwork is that it's created on cloth. However, it's not just restricted to cloth anymore. Nowadays, this art can be seen on ceramic bowls, boxes, etc.
2. Kalighat Paintings
Kalighat painting evolved in West Bengal in the 19th century. It is one of the most appropriate devotional paintings for gifting on Diwali because of the depiction of religious figures and scenes from Ramayana. The bold outlines on vibrant dyes enrich these paintings so much. Kalighat painting's sacred beauty will inspire any home with a spiritual vibe. People love this painting very much due to which they stay in demand forever. The recipient will applaud your gifting selection.
3. Madhubani Paintings
Madhubani painting is an astonishing gift for your relatives and peers on Diwali. It's a classic blend of beauty and traditional style. This painting will transform the recipient's room into an interesting interior. The bright colors and plant-derivated dyes add a brilliant touch to the entire painting. As far as its significance from the devotion viewpoint is concerned, it usually depicts how people in the Mithila region, Bihar are associated with deities.
4. Pichwai Paintings
Pichwai painting is one of the amazing devotional paintings that make sense for gifting on Diwali. It will bring peace and good luck to the recipient's home. The painting is a symbol of devotion for Lord Krishna. Though Diwali is celebrated in the honour of Lord Rama, devotion is the same for all Gods and Goddesses. Therefore Pichwai artwork is a sensible devotional Diwali gift. Another best thing about Pichwai painting is that it complements every home décor. Hence, the recipient can hang it in any room- living space, worship place, home office, bedroom, etc.
5.Buddha Paintings
Last but not least, Buddha painting is another best gifting option for the Diwali festival. This devotional artwork represents Lord Buddha- an entity of peace and fortune. Your friends and family will be astounded with such a nice Diwali gift. It shows your good thoughts and best wishes for the recipient. This painting creates an ambiance of serenity and calmness in any space making it the best place to live in.
These artworks are extremely practical as a home décor artifact and people from Hong Kong, Japan, China, and Thailand are already raving about them. The Buddha paintings can be presented to the office staff to wish them luck and properity at the professional and individual levels.
Final Words
These devotional painting ideas are superb gifting options. They will give your loved ones' home a peaceful feel and an intricate look. Representing deities, these artworks will offer them appreciation along with a sense of traditional reminiscence. We hope your search for the best devotional gifts for Diwali ends with this blog post. Which one is your selection? Comment down below!