The past year's events have thrown all of us into a monotonous loop that majorly lacks anything exciting due to the various restrictions. It has been a trying time, leaving everyone in dire need of something to lift their spirits. As always, nothing works better than retail therapy, and Myntra's End of Reason Sale is here to give you everything you need in this spree. Starting from 3rd July upto 8th July, you can avail exciting deals on all your favourite brands and products, only on Myntra EORS 2021.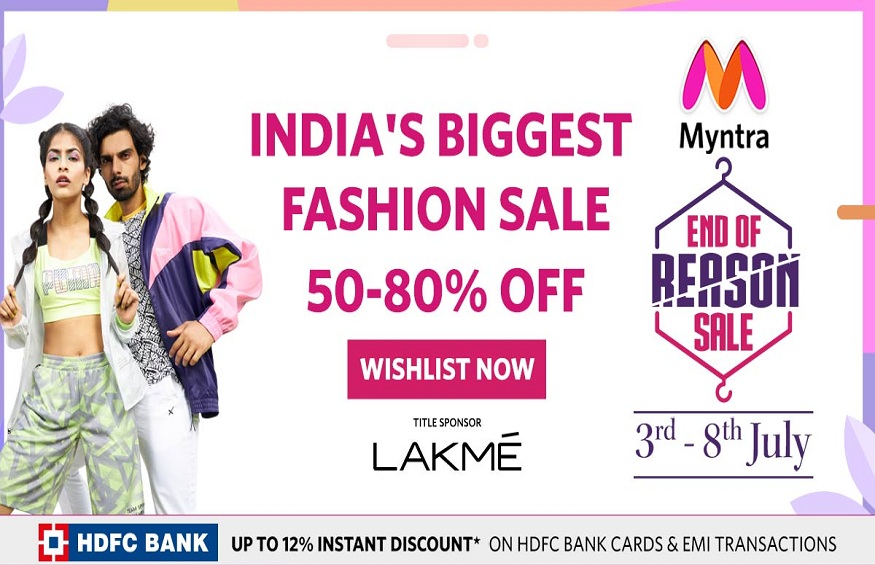 Myntra's End of Reason Sale is a one-stop destination for everything you could need, well known for its high-quality products that are sure to leave you extremely satisfied. The sale features extensive collections from high-end brands like Roadster, Armani Exchange, Biba, Bobbi Brown, NOISE, Levi's, Decathlon, and many more. At the EORS, you can shop as much as you'd like without it burning a hole through your wallet, so get ready! Here's everything you can look for on Myntra:
Ethnic Wear: No wardrobe is ever complete without some classic ethnic wear pieces, and with the commencement of the wedding season, the current demand for fashionable options is relatively high. Look for the best from a wide range of kurtas starting at just Rs. 499 along with a minimum 50% discount on all Biba apparel. All brides to be and grooms to be can now have the wedding outfit of their dreams with flat 80% off on sarees and a minimum discount of 40% on all Louis Philippe suits and blazers.
Active Wear: Staying active and focusing on your health is more important than ever now, so take your first step towards fitness by spending on some good quality activewear. Buy some comfortable, motivating options from Decathlon, starting at just Rs. 349. You can also avail of discounts of a minimum of 50% on Puma products and 60% on HRX by Hrithik Roshan.
Footwear: There's no better way to flaunt your style on every occasion than stocking up on the latest footwear, and EORS is here to assist you. Choose your casual flip flops or sandals from over 7,000 styles, just under Rs. 799 and the fanciest heels from over 6,000 styles at a minimum discount of 60%.
Lingerie & Loungewear: One can never have enough lingerie, and you can now expand your collection by shopping with a minimum of 50% off on brands like Clovia and Amante. Along with this, you can also find Jockey products under Rs. 499 with a flat 30% off on sleepwear from Enamor.
Jewellery: Jewelry is one of the most significant expenses for any wedding household, but EORS is here to the rescue with a flat 80% discount on Zaveri Pearls, upto 30% off Swarovski a minimum of 75% off on Rubans jewellery. You can also find elegant and posh jewellery sets for just under Rs. 599.
Adding to these, you can look for travelling essentials and home decor items at discounts of up to 50-80%, so don't miss out! Opportunities so beneficial rarely ever present themself, so go ahead and book yourself an Early Access Gold Slot on Myntra to get your hands on all your favourite items before they run out. Happy shopping!