The one thing that every girl looks forward to when it comes to her wedding day is the dress that she is going to wear. This is why you want to make sure that you are looking at some of the best fantasy dress options that are around. Here are just 10 of the best ones that can make you go weak in the knees and say yes this is the dress that I want!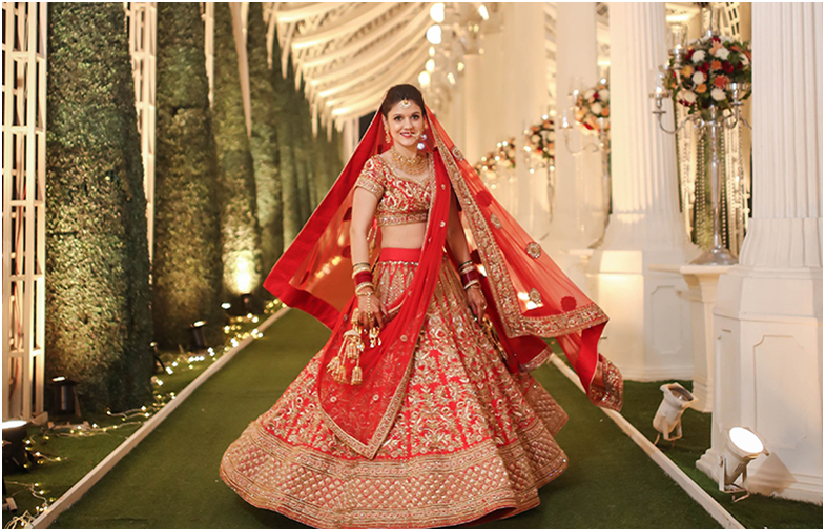 Image Source: https://www.fnpgardens.com
Fantasy Wedding Dresses
There are so many options and choices that you can enjoy when it comes to your wedding, but which gowns are going to be the best? Here are 10 of the top fantasy-style wedding dresses to think about, including:
Floral design – If you want to feel like you are a flower or a princess inside a rose garden, then there are options for that. You can pick a silk lehenga in off-white with pink and red flowers adorning the skirt.
Art work – For those who want something different and want to think that their wedding dress is modern, yet stylish this is the way to go, and this option is white with black and red accented flowers of different sizes.
Royalty – If you want to think that you are a princess or even a queen on your wedding day, then you want to go for something stunning, and there are plenty of white gowns that are embellished to the maximum.
Elegant in pink – Depending on the shades that you want to wear on your wedding day you can opt for pink. This doesn't mean that you have to go for the brightest colors, but you can go for muted shades if you want as well.
Maroon shades – Another way to have some drama on your wedding without having to deal with anything is by going with a maroon dress that would work well with any skin tone.
Beautiful in pastel – Also, if you are looking for something understated, yet beautiful, then check out the huge array of options that come in pastels.
Embroidery – Another option that you can think about when it comes to picking a wedding dress is going for one that is full of embroidery with flowers and other designs.
Grey – If you want something different than what everyone else is going to be wearing, but that isn't white, then think about going for a grey gown.
Gold and beige – Another popular style this year is the beige paired with gold, and you can find a huge array of options that you would fall in love with in this combination.
White – If you are thinking of going traditional, but don't want to pick what colors you are going to choose from, then white is the right way to go.
These are just some of the most popular styles that you can pick and choose from, so make sure that you are aware of what is there.
Go ahead and start thinking of your wedding day, especially if you are engaged since the dress is extremely important. You want to make sure that you are picking the right option for all of your needs, which should include the colors that you want along with the style of dress. There are so many options, so why not try a few to pick the one that you like the best?
Want to wish your friends with amazing wedding quotes click below to wish now
Best 100 wedding quotes by wedding experts